About Bay Area Turf - Your San Francisco Bay Area Synthetic Grass Expert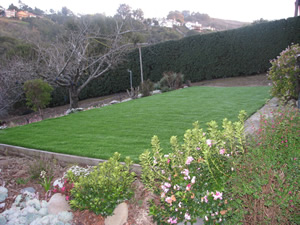 Bay Area Turf is a California State Contractor, License #957979. We specialize in the sale and installation of both residential and commercial synthetic lawn turf. We are your source for synthetic grass products in San Francisco and the surrounding areas. We supply beautiful synthetic grass products from leading manufactures of synthetic turf, such as Global Syn Turf and Upograss
. The artificial grass products we supply are:
Highly Durable & Won't Fade
Eco-Friendly, Pet & Child Safe
Beautiful, High Quality Products that Look Like Real Grass!
As a professional San Francisco Bay Area Synthetic Grass contractor, Bay Area Turf is here to explain the benefits and features of our artificial grass products in a manner that makes it easier for our clients to understand why switching to a synthetic lawn can be so beneficial for them. We won't pressure you into any sale, and we offer FREE on-site consultations and estimates. We want you to make an informed decision that leaves you feeling confident in your choice - whether you decide to make the switch to artificial lawns or not.
Interested in learning more about synthetic lawns? Give us a call today at 925-961-8281 . We would be happy to discuss our products with you in detail!
Specials - Yelp
Yelp is a great tool when looking for and comparing local businesses and contractors. Being able to read about customers first hand experiences with contractors is invaluable. Bay Area Turf values our customers opinions and feedback and believes in sites like Yelp. We offer a special $40.00 for $100.00 deal exclusively through Yelp. Get your Yelp Deal today! Click Here to Visit Yelp
Services We Provide in San Francisco
What San Francisco Homeowners Are Saying About Us
"Bay Area Turf installed synthetic lawn in our front yard. They did a beautiful job and went the extra mile to remove and reinstall decorating stones and pathway lighting. They even found a hidden clean-out we were not aware of existing. Matt is easy to talk to. There were no unpleasant surprises. Highly recommended." - Koen B., San Mateo, CA Read More