San Francisco Bay Area Synthetic Grass
The Grass Will Always Be Greener On Your Side of the Fence with a Synthetic Lawn!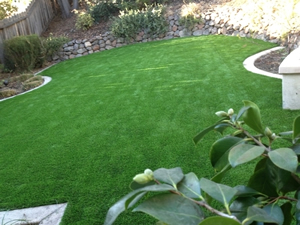 Bay Area Turf is a professional San Francisco Bay Area Synthetic Grass supplier providing a variety of artificial lawn products. Our services include the installation and sale of artificial grass for synthetic lawns that stay beautiful all year long.
We proudly offer FREE in-home consultations to anyone looking to switch to artificial grass. As a professional San Francisco Bay Area Synthetic Grass supplier and installation specialist, Bay Area Turf understands how difficult it can be to understand the products and how appealing the savings are for switching to artificial lawns. We are here to educate you on the features of synthetic turf and the benefits of our services. We will help you to understand each of our fake grass products so that you are able to make an informed decision that you can be confident with. Everything from product choice, area measurements, design, and installation services will be addressed in a one time meeting with one of our San Francisco Bay Area Synthetic Grass experts.
Bay Area Turf's sole purpose is to provide our residential and commercial clients with a high level installation of a quality product and the man power to get the job done right. Most residential projects only take 1-2 business days to complete. We have a high quality installation due to the fact that the owner of Bay Area Turf not only does all estimates himself, but is also at every project working along side the other installers. So you can rest assured that you will get top quality results when you choose Bay Area Turf for synthetic lawns in San Francisco and the surrounding areas.
How Much Does It Cost to Install Synthetic Grass?
We have the BEST TURF & the BEST PRICES in the Bay Area. We'd be happy to provide you with a free consultation and estimate for the cost of transforming your yard into a beautiful, eco-friendly, child and pet-safe synthetic lawn that stays green all year long. Just give us a call at 925-961-8281 to get started!
Our Synthetic Turf Products:
Our San Francisco Bay Area Synthetic Grass Experts Provide These Services & Products
Synthetic Grass
Artificial Grass
Synthetic Lawn Turf
Synthetic Grass Lawns
Artificial Lawns
Synthetic Lawns
Artificial Turf
Synthetic Turf
Tiger Turf
Turf
View Completed Project Photos of Synthetic Grass Installation in San Francisco