Alameda Synthetic Grass - The Finest Company For Your Needs!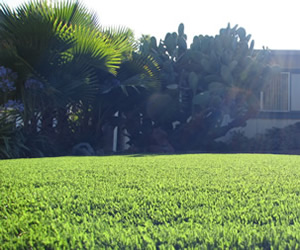 Bay Area Turf is your source for Alameda synthetic grass . Many homeowners and businesses in Alameda are making the switch to artificial lawns because of the incredible savings these alternatives provide. At Bay Area Turf, we have over 35 years of experience not only providing and installing top quality Alameda synthetic grass products, but in construction, earthwork, grading, excavating and paving. Our diverse range of expertise allows us to provide our clients with high quality installation of Alameda artificial lawns and a finish that leaves you feeling satisfied with the investment.
Our Alameda synthetic grass products come from a leading manufacturer of artificial lawns, Tiger Turf. These artificial grass products offer many benefits including the following features:
Green All Year Long
Environmentally Friendly
Pet & Child Safe
Low Maintenance - no watering, no mowing, no hassle!
Saves Money - paying for itself in about 5 years
Durable - over 20 years of use
No allergens or pollen
No mud
Looks like Real Grass!
Want to learn more about the benefits of synthetic lawns or our specific products? Call the Alameda synthetic grass experts at Bay Area Turf today to schedule a FREE on-site consultation.
Bay Area Turf - Alameda Artificial Lawns
At Bay Area Turf, we are committed to delivering you the highest quality product and installation so your Alameda artificial lawns experience will always result in a positive and healthy one. We know it can be difficult it understand the benefits of Alameda artificial lawns. After all, terms like synthetic, artificial and fake tend to leave homeowners feeling "cheated." But once they realize all the savings and benefits of having artificial lawns, those reactionary feelings to the terms are quickly put aside.
Alameda synthetic lawns offer residential and commercial property owners amazing savings without sacrificing the overall look - because our products are quality controlled and made to look beautiful like real, lush, natural grass!
The sole purpose of our Alameda artificial grass experts at Bay Area Turf is to educate you on the features and benefits of our synthetic turf so you can make an informed decision. We address everything from product choice, area measurements, design, and installation of Alameda artificial lawns in a FREE on-site consultation. Most of our projects only take 1-2 days to complete, too, offering our clients the chance to enjoy their new synthetic lawns quickly without a lot of fuss or construction. Our team is very neat and clean, too, taking extra care to treat your property with respect. You don't have to take our word for it, though. Our client testimonials and before and after photos are testament enough of the quality of our workmanship. So we encourage you to browse through our website to learn more about the Alameda artificial lawns we have installed. Or, give us a call today at 925-961-8281 to get started on your project!
Alameda Fake Grass
Water is one of our most valuable resources on the planet. It is estimated that during the summer months 75% of Alameda household water usage goes to watering natural lawns. Alameda fake grass is the perfect alternative that provides many savings, including water savings!
All the money you'll save by not having to water your synthetic lawn will offset the cost of Bay Area Turf's Alameda fake grass installation within 5 years. The 20 years of estimated life after that is all PROFIT.
Make the switch to Alameda fake grass today. We can assure you the beauty of our synthetic grass products and the savings are anything but "fake!"
Alameda Synthetic Grass
Alameda Artificial Grass
Alameda Synthetic Lawn Turf
Alameda Synthetic Grass Lawns
Alameda Artificial Lawns
Alameda Synthetic Lawns
Alameda Artificial Turf
Alameda Turfgrass
Alameda Synthetic Turf
Alameda Tiger Turf
Alameda Turf
Alameda Synthetic Lawns
Want to know why so many people are switching from a natural lawn to synthetic lawns in Alameda? THE ADVANTAGES, plain and simple. From saving on time and money, mostly from eliminating all that costly lawn maintenance, to improved lifestyle and helping with environmental issues, Alameda synthetic lawns are quickly gaining popularity with homeowners and businesses.
Alameda synthetic lawns installed by Bay Area Turf are easy to maintain, providing an incredibly low maintenance alternative to natural grass. You no longer have to get out the lawn mower once a week and make sure you turn your sprinklers on every morning to keep your grass alive, green and lush. That equals more time and money savings! For those who hire a gardener to take care of their lawns, they will see even bigger savings by switching to Alameda synthetic lawns. Once installed, the only maintenance that an artificial lawn needs is a monthly brooming or blowing (with a leaf blower) to eliminate any debris and to keep the synthetic grass blades from laying down. A quick, easy fix just once a month. It's that simple.
Start SAVING and switch to low maintenance Alameda synthetic lawns - call Bay Area Turf today!
The Services We Provide in Alameda, CA