Are You Looking For Boulder Creek Synthetic Grass Today?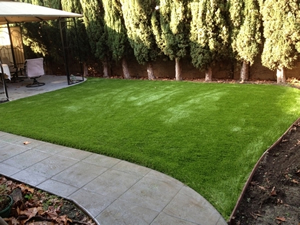 If you are looking to make the switch to a synthetic lawn, you have come to the right place! Bay Area Turf is your source for beautiful, affordable Boulder Creek synthetic grass . With our high quality, environmentally friendly Boulder Creek synthetic grass, you will save valuable time on yard work, environmental resources, and money in the long run because you won't have to pay for lawn maintenance, watering, and landscaping.
From park and rec, to schools, homes, and businesses, many people in Boulder Creek have been able to take advantage of the benefits of the low maintenance lawn alternative that Boulder Creek synthetic turf provides. An artificial lawn requires no watering, no constant lawn mowing, and doesn't produce any unsightly patches. Though it is synthetic in nature, our Boulder Creek synthetic grass looks and feels exactly like a natural lawn, minus all the allergens, pollen and mud! Our products are also pet friendly and safe for homes with small children. It even provides excellent drainage.
Want to learn more about why our Boulder Creek synthetic grass is the ideal solution in saving effort, time, precious resources and money? Call the Boulder Creek synthetic lawn experts at Bay Area Turf today! You don't have to worry about high-pressure sales tactics from our professionals. Our goal is to provide you with all the information you need to make a confident decision, and to help you better understand the benefits of synthetic lawns so that you can decide whether or not our products are right for you. If you do want to make the switch to fake grass, we'll show you how "real" and beautiful our products look compared to some of the other artificial grass you'll find on the market. Then we will provide you with expert installation of your new synthetic lawn, going the extra mile to ensure everything is perfect and that you are satisfied with your purchase.
Call Bay Area Turf at 925-961-8281 to make the switch to a synthetic lawn today, and start benefiting from all the advantages provided by synthetic grass!
Bay Area Turf - Boulder Creek Artificial Lawns
At Bay Area Turf our sole purpose is to provide our clients with a high level of expertise, a quality product for their Boulder Creek artificial lawns and the man power to get the job done right. Our expertise comes from years of construction experience in earthwork, grading, excavating and paving. Unlike the competition, our experience is not only in Boulder Creek synthetic turf installation. It is our diverse expertise that helps us get the job done right and ensure a precise installation of your new synthetic grass lawn.
We work in partnership with SGW Synthetic Grass Warehouse to supply our clients with one of the leading manufactures of synthetic turf: Tiger Turf. The artificial grass products that we provide from Tiger Turf are highly durable, environmentally friendly, aesthetically exquisite and quality controlled for perfect Boulder Creek artificial lawns.
Not sure if fake grass is for you? Bay Area Turf's experts are happy to provide you with a FREE on-site estimate to anyone looking to switch an artificial lawn in Boulder Creek.
Boulder Creek Fake Grass
At Bay Area Turf, we understand how difficult it can be to understand the benefits of Boulder Creek fake grass. After all, that term - "fake" - turns a lot of people off. However, we also know that our Boulder Creek fake grass products offer our residential and commercial clients an incredible amount of savings as well as an appealing look. That's why we are here to educate you on the features of Boulder Creek synthetic turf and the benefits of our services. We will help you to understand each of our Boulder Creek artificial grass products so that you not only understand them better, but so you can make an informed decision as to whether or not our products are for you. Everything from product choice, area measurements, design, and installation services will be addressed in a one time meeting with one of our Boulder Creek synthetic grass professionals. Just give us a call today to get started.
Boulder Creek Synthetic Grass
Boulder Creek Artificial Grass
Boulder Creek Synthetic Lawn Turf
Boulder Creek Synthetic Grass Lawns
Boulder Creek Artificial Lawns
Boulder Creek Synthetic Lawns
Boulder Creek Artificial Turf
Boulder Creek Turfgrass
Boulder Creek Synthetic Turf
Boulder Creek Tiger Turf
Boulder Creek Turf
Boulder Creek Synthetic Lawns
Synthetic turfgrass is the perfect solution for commercial spaces because it saves so much money on lawn maintenance. Consider this: how much money is wasted each year on maintaining all the natural grass that is government owned across America? Millions? Billions? 
If we invested our tax dollars into converting all our natural grass lawn into Boulder Creek synthetic lawn it would pay for itself within 3-5 years. After that we have 20-22 more years in the life of the product to save all those tax dollars. Just imagine - all the grass actually green all year round, plus huge savings on lawn maintenance expenses!
Let's do some math. I'm just going throw a random number out as an example. Usually a Bay Area Turf Lawn will pay for itself within 5 years. So let's say the city of Boulder Creek spends 1 million dollars per year on maintaining all the natural grass of city owned properties. Now let's say it costs 5 million dollars to convert all that grass to Boulder Creek synthetic lawns. At the end of 5 years, the artificial grass will have paid for itself. That leaves 20 years of saving 1 million dollars per year, not having to water or mow or trim any grass in the whole city. That is $20 million dollars saved over 25 years. Not bad at all if you ask us!
So whether you are a homeowner, a business owner, or a government official, we encourage you to hop on the band wagon and consider investing in Boulder Creek synthetic lawns today.
The Services We Provide in Boulder Creek, CA