Welcome to Bay Area Turf: Castro Valley Synthetic Grass Experts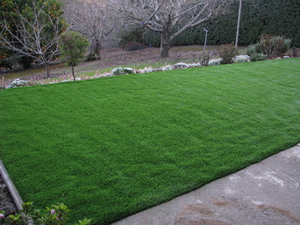 Do you want a lawn that is green all year long, but don't have the time or money to invest in that much lawn maintenance? Or maybe you are just tired of all the constant upkeep you put into your lawn, just to end up with an ugly, patchy yard. Well, Bay Area Turf has the solution for you: Castro Valley synthetic grass .
That's right. Fake grass. But it's so much more than that! And at Bay Area Turf, we'll explain all the benefits and savings to you in an easy to understand manner with a no-hassle, no-pressure, FREE on-site consultation.
At Bay Area Turf our sole purpose is to provide our residential and commercial clients with a high level of experience, a quality Castro Valley synthetic grass product, and the man power to get the job done right. Our expertise comes from years of construction experience in earthwork, grading, excavating and paving in Castro Valley. Unlike other contractors in the Castro Valley synthetic lawn sector, our experience is not only in synthetic grass installation. It is our diverse expertise that helps us get the job done right and ensure a synthetic lawn installation that is precise and problem-free. We take extra precaution to ensure everything about your new Castro Valley synthetic grass lawn is perfect.
You don't have to take our word for it, though. Just take a look at our photo gallery of before and after shot or read through some of our recent client testimonials. From the beautiful artificial lawns we've installed in Castro Valley to the many satisfied customers we have served, Bay Area Turf is your source for high quality Castro Valley synthetic grass and the type of service you can rely on to be done correctly.
Give us a call today at -- to learn more about our synthetic grass products and savings synthetic lawns can provide you!
Bay Area Turf - Castro Valley Artificial Lawns
Castro Valley artificial lawns are a great alternative for residential and commercial properties, and Bay Area Turf is your synthetic grass expert offering a variety of beautiful, high quality, affordable products for your synthetic lawn needs. Our products make Castro Valley artificial lawns environmentally friendly while also saving valuable, money and resources since synthetic turf is very low maintenance. From park and recreation centers, to schools, homes, and businesses, Castro Valley artificial lawns are the perfect low maintenance lawn alternative. Just think: a lawn that stays green ALL YEAR LONG without the cost of expensive lawn maintenance or landscaping fees! No watering, no lawn maintenance, no ugly patches or bare spots. Be warned, though: our synthetic grass may cause neighbor envy!
While synthetic in nature, Castro Valley artificial lawns look and feel just like natural grass. However, you won't have to deal with all the allergens, pollen and mud, or any of the maintenance costs. Bay Area Turf's synthetic grass products are also pet friendly and safe for homes with small children.
Let's review:
Super low maintenance
Green all year long, no patches
No watering necessary
No allergens or pollen
No mud
Eco-friendly
Pet and child safe
Needless to say, Castro Valley artificial lawns are becoming increasingly popular because of these benefits and money saving qualities! So if you want to learn more about our synthetic grass products or synthetic lawns in general, give our experts Castro Valley artificial lawns a call today. At Bay Area Turf our goal is help you better understand the benefits of synthetic lawns so that you can decide whether or not our products are right for you. Call us today at 925-961-8281 , and let us tell you more about our Castro Valley synthetic grass products.
Castro Valley Fake Grass
Bay Area Turf works in partnership with SGW Synthetic Grass Warehouse to supply our Castro Valley clients with one of the leading manufactures of synthetic turf: Tiger Turf. The Castro Valley fake grass products that we provide are:
Durable for up to 20 years of use
Environmentally friendly, safe for homes with pets and children
Aesthetically exquisite - looks just like real grass!
Quality controlled for outstanding beauty, durability, and safety
Get the perfect artificial lawn with our Castro Valley fake grass! Call today and we will provide you the details of all of our artificial grass products so that you not only understand them better, but so you can make an informed decision when purchasing. We address everything from product choice, area measurements, design, and installation of Castro Valley synthetic lawns during a one time meeting with our clients. Don't worry - we don't use pressure-sales tactics. We just want to help you understand the savings and benefits of the Castro Valley fake grass products we provide.
Castro Valley Synthetic Grass
Castro Valley Artificial Grass
Castro Valley Synthetic Lawn Turf
Castro Valley Synthetic Grass Lawns
Castro Valley Artificial Lawns
Castro Valley Synthetic Lawns
Castro Valley Artificial Turf
Castro Valley Turfgrass
Castro Valley Synthetic Turf
Castro Valley Tiger Turf
Castro Valley Turf
Castro Valley
Castro Valley Synthetic Lawns
Dogs are very rough on grass. They dig. They run. They pee. All of this slowly leads to a dead, bald, patchy lawn. Sure the up front cost of sod is very appealing when compared to Castro Valley synthetic lawns. But the overall cost for dog owners to replace their natural grass lawn every few years adds up.
Castro Valley synthetic lawns are DOG PROOF! The density of the blades along with the strength of the backing makes it virtually indestructible. Artificial grass is also easy to clean. When it comes to urine all homeowners have to do is grab the hose and rinse off the grass. That simple! For other "dog messes" you just pick it up as you would with a natural lawn. With Castro Valley synthetic lawns homeowners don't have to worry about ruining their yards with "stay away" pet training chemicals or other treatments that may cause harm to the environment as well as your pets. Plus, no more patchy, ugly grass - or muddy paw tracks throughout the house! Make the switch to pet proof Castro Valley synthetic lawns today. Call Bay Area Turf for more information.
The Services We Provide in Castro Valley, CA
See What Castro Valley Homeowners Are Saying About Us
Bay Area Turf is Rated: 3 / 3
based on this 1 happy customer review.
---
"I was trying to grow natural grass in the backyard of my townhouse for my new puppy, but field mice and gophers quickly found and destroyed my efforts. I called in Bay Area Turf. I was impressed with the quality of their work, their friendly professional manner and their price. They completed the job in a day, and left me with a beautiful "lawn", which both I and my puppy love."

- Sally R. Castro Valley, CA | Rated: 3 / 3
---