Why Your Kids Will Love Our Synthetic Turf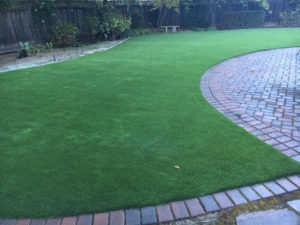 Everyone loves our synthetic turf because it's so beautiful and is so easy to maintain. But there are hundreds of comments we hear every year about why people enjoy artificial grass from Bay Area Turf.
We can tell you that most of all, children appreciate this beautiful, life-like turf. Here's why you and your family will want to consider installing our synthetic turf.
Little Tender Feet Don't Get Hurt
Synthetic grass is much more desirable than asphalt, concrete, or playground rocks for children's playgrounds and play areas. This softer artificial turf doesn't harbor bugs that bite. It won't scuff up their feet and knees or get mud all over their hands and feet. There are no stickers from weeds, splinters, or hidden objects in the dirt to get hurt on.
Your children will have a much safer, nicer place to play that's soft on the feet. Plus, it has the same shock absorbency of natural grass, so it hurts less when they fall down. The grass will not cause allergies. It won't contain fertilizers or pesticides. It won't emit CO2 or harmful substances.
Teens Love Our Synthetic Grass Too
We've found that even older children love our synthetic grass just as much as the little ones do. With artificial grass, it's very comfortable to lie down and watch the clouds. If your son or daughter loves this pass time, they'll love not getting ants in their hair or dirt on their backs. Playing ball, soccer, and another sport is fun too as the surface is shock absorbent and clean.
You'll Love Our Synthetic Grass Too!
Imagine never having to spend another weekend mowing the lawn. Your grass will always be green and will never turn brown. It will always stay the same height no matter how many times you look at it throughout the year. There is none of the maintenance that comes with a natural lawn and you'll never deal with weeds in the turf again.
You'll save loads on the watering bill. Synthetic turf never ever has to be watered. With the way it's manufactured, natural rainwater will filter through to the soil below. The grass won't be competing with your flowers, bushes, and trees. It naturally provides erosion control.
You'll also save on lawn mowing products, fertilizing products, and pesticides. If you hire a service for all this, you'll be saving even more.
Our synthetic lawn products are beautiful. They are finely made to look exactly like real, natural grass. Call our San Francisco Synthetic Grass experts and ask us about our Tiger Turf and be sure to check out other options. Tiger Turf is highly realistic looking with lime green tones and darker tones that are blended together. It is strong, beautiful, and durable. And, it's resistant to heat, fire, chemicals, frost, and UV ray damage.